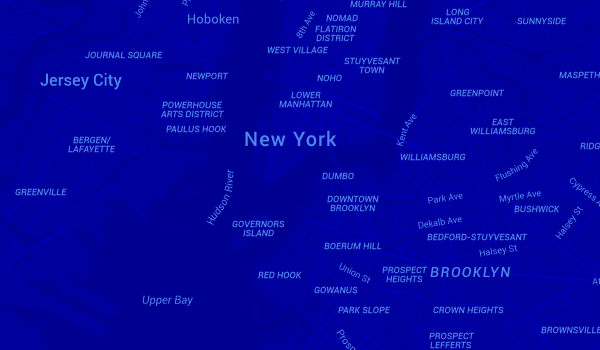 Where did the dynamic map preview go?
We have had to temporarily disable certain features as Google has started charging us a lot for using its Google Maps API. For now, we can only show the static map preview but hope to re-enable this feature soon. For more information see our Help page and sorry for the inconvenience!
Anonymous
February 20, 2014
If you were going to build your own world, this is the map you would use.
JavaScript Style Array:
[
      
	  
	  
    {
        "featureType": "water",
        "elementType": "geometry",
        "stylers": [
            {
                "color": "#000045"
            },
            {
                "lightness": 17
            }
        ]
    },
    {
        "featureType": "landscape",
        "elementType": "geometry",
        "stylers": [
            { "color": "#000045"
            },
            {
                "lightness": 20
            }
        ]
    },
    {
        "featureType": "road.highway",
        "elementType": "geometry.fill",
        "stylers": [
            { "color": "#000045"
            },
            {
                "lightness": 17
            }
        ]
    },
	
	

	
	
    {
        "featureType": "road",
        "elementType": "geometry.stroke",
        "stylers": [

            {
                "visibility": "off"
            }
        ]
    },
	
	
	 {
        "featureType": "road.highway.controlled_access",
        "elementType": "geometry.stroke",
        "stylers": [
            { "color": "#000045"
            },
            {
                "lightness": 20
            }
        ]
    },
	
	
	
    {
        "featureType": "road.arterial",
        "elementType": "geometry",
        "stylers": [
            { "color": "#000045"
            },
            {
                "lightness": 25
            }
        ]
    },
    {
        "featureType": "road.local",
        "elementType": "geometry",
        "stylers": [
            { "color": "#000045"
            },
            {
                "lightness": 25
            }
        ]
    },
    {
        "featureType": "poi",
        "elementType": "geometry",
        "stylers": [
            { "color": "#000045"
            },
            {
                "lightness": 21
            }
        ]
    },
    {
        "elementType": "labels.text.stroke",
        "stylers": [
            {
                "visibility": "off"
            }
        ]
    },
    {
        "elementType": "labels.text.fill",
        "stylers": [
            {                "saturation": 0            },
            {                "color": "#4d88ea"            },
            {                "lightness": 0            }
        ]
    },

    {
        "elementType": "labels.icon",
        "stylers": [
            {
                "visibility": "off"
            }
        ]
    },
    {
        "featureType": "transit",
        "elementType": "geometry",
        "stylers": [
            { "color": "#000045"
            },
            {
                "lightness": 19
            }
        ]
    },
    {
        "featureType": "administrative",
        "elementType": "geometry.fill",
        "stylers": [
            { "color": "#000045"
            },
            {
                "lightness": 20
            }
        ]
    },
    {
        "featureType": "administrative",
        "elementType": "geometry.stroke",
        "stylers": [
            { "color": "#000045"
            },
            {
                "lightness": 17
            },
            {
                "weight": 1.2
            }
        ]
    }
]