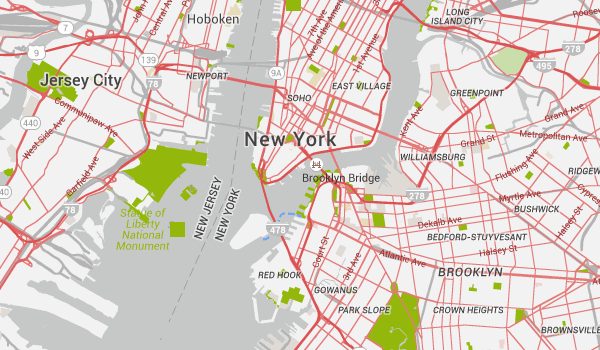 Where did the dynamic map preview go?
We have had to temporarily disable certain features as Google has started charging us a lot for using its Google Maps API. For now, we can only show the static map preview but hope to re-enable this feature soon. For more information see our Help page and sorry for the inconvenience!
Carlos Junod Alcain
March 13, 2016
Based in a simple red style I add public spaces such as parks and important buildings.
JavaScript Style Array:
[{"featureType":"administrative","elementType":"labels.text.fill","stylers":[{"color":"#444444"}]},{"featureType":"landscape","elementType":"all","stylers":[{"color":"#f2f2f2"}]},{"featureType":"poi","elementType":"all","stylers":[{"visibility":"off"}]},{"featureType":"poi.attraction","elementType":"all","stylers":[{"visibility":"simplified"}]},{"featureType":"poi.business","elementType":"all","stylers":[{"visibility":"simplified"}]},{"featureType":"poi.government","elementType":"all","stylers":[{"visibility":"simplified"}]},{"featureType":"poi.medical","elementType":"all","stylers":[{"visibility":"simplified"}]},{"featureType":"poi.park","elementType":"all","stylers":[{"visibility":"simplified"},{"color":"#93b80a"},{"weight":"0.01"}]},{"featureType":"poi.park","elementType":"geometry","stylers":[{"visibility":"simplified"}]},{"featureType":"poi.park","elementType":"labels.text","stylers":[{"visibility":"simplified"}]},{"featureType":"poi.park","elementType":"labels.icon","stylers":[{"visibility":"simplified"}]},{"featureType":"poi.place_of_worship","elementType":"all","stylers":[{"visibility":"simplified"}]},{"featureType":"poi.school","elementType":"all","stylers":[{"visibility":"simplified"}]},{"featureType":"poi.sports_complex","elementType":"all","stylers":[{"visibility":"simplified"}]},{"featureType":"road","elementType":"all","stylers":[{"saturation":-100},{"lightness":45},{"visibility":"simplified"}]},{"featureType":"road","elementType":"geometry.fill","stylers":[{"saturation":"67"},{"lightness":"-36"},{"gamma":"1.19"}]},{"featureType":"road","elementType":"geometry.stroke","stylers":[{"lightness":"-28"}]},{"featureType":"road","elementType":"labels.text","stylers":[{"saturation":"76"},{"visibility":"simplified"},{"lightness":"8"},{"gamma":"0.00"},{"color":"#8f3131"},{"weight":"7.53"}]},{"featureType":"road.highway","elementType":"all","stylers":[{"visibility":"simplified"},{"saturation":"-2"},{"lightness":"10"}]},{"featureType":"road.highway","elementType":"geometry","stylers":[{"visibility":"simplified"}]},{"featureType":"road.arterial","elementType":"labels.icon","stylers":[{"visibility":"off"}]},{"featureType":"transit","elementType":"all","stylers":[{"visibility":"simplified"},{"lightness":"-6"},{"weight":"2.25"}]},{"featureType":"transit","elementType":"geometry","stylers":[{"visibility":"simplified"}]},{"featureType":"transit","elementType":"geometry.stroke","stylers":[{"visibility":"simplified"}]},{"featureType":"transit","elementType":"labels.text","stylers":[{"visibility":"simplified"},{"saturation":"44"},{"lightness":"-17"}]},{"featureType":"transit.station","elementType":"all","stylers":[{"visibility":"simplified"}]},{"featureType":"transit.station.bus","elementType":"all","stylers":[{"visibility":"simplified"}]},{"featureType":"water","elementType":"all","stylers":[{"color":"#c7c8c9"},{"visibility":"on"}]}]