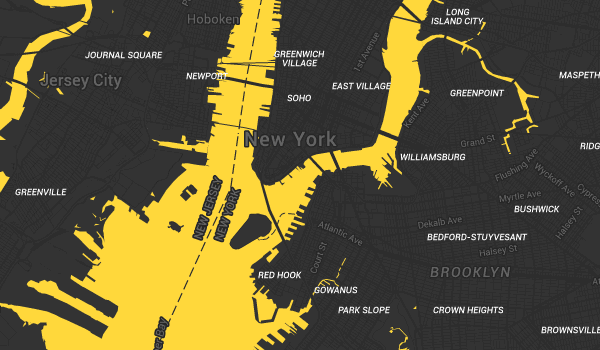 Where did the dynamic map preview go?
We have had to temporarily disable certain features as Google has started charging us a lot for using its Google Maps API. For now, we can only show the static map preview but hope to re-enable this feature soon. For more information see our Help page and sorry for the inconvenience!
This map aligns with our branding.
JavaScript Style Array:
[{"featureType":"all","elementType":"labels.text.fill","stylers":[{"saturation":36},{"color":"#000000"},{"lightness":40}]},{"featureType":"all","elementType":"labels.text.stroke","stylers":[{"visibility":"on"},{"color":"#000000"},{"lightness":16}]},{"featureType":"all","elementType":"labels.icon","stylers":[{"visibility":"off"}]},{"featureType":"administrative","elementType":"geometry.fill","stylers":[{"color":"#000000"},{"lightness":20}]},{"featureType":"administrative","elementType":"geometry.stroke","stylers":[{"color":"#000000"},{"lightness":17},{"weight":1.2}]},{"featureType":"administrative.neighborhood","elementType":"labels.text","stylers":[{"visibility":"simplified"},{"color":"#ffffff"}]},{"featureType":"landscape","elementType":"geometry","stylers":[{"color":"#000000"},{"lightness":20}]},{"featureType":"poi","elementType":"geometry","stylers":[{"color":"#000000"},{"lightness":21}]},{"featureType":"road.highway","elementType":"geometry.fill","stylers":[{"color":"#000000"},{"lightness":17}]},{"featureType":"road.highway","elementType":"geometry.stroke","stylers":[{"color":"#000000"},{"lightness":29},{"weight":0.2}]},{"featureType":"road.arterial","elementType":"geometry","stylers":[{"color":"#000000"},{"lightness":18}]},{"featureType":"road.local","elementType":"geometry","stylers":[{"color":"#000000"},{"lightness":16}]},{"featureType":"transit","elementType":"geometry","stylers":[{"color":"#000000"},{"lightness":19}]},{"featureType":"water","elementType":"geometry","stylers":[{"color":"#ffd013"},{"lightness":17}]}]