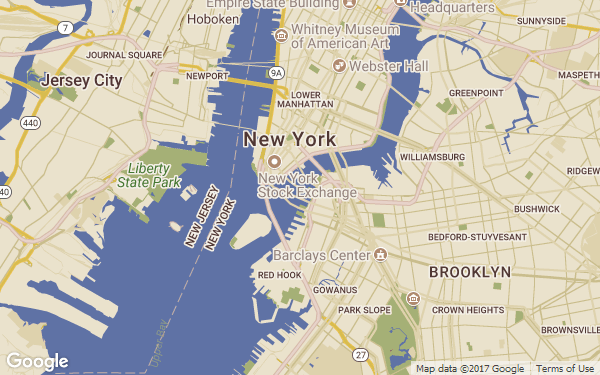 Where did the dynamic map preview go?
We have had to temporarily disable certain features as Google has started charging us a lot for using its Google Maps API. For now, we can only show the static map preview but hope to re-enable this feature soon. For more information see our Help page and sorry for the inconvenience!
Just like the Retro Muted, but light brown terrain support and fewer labels for a simplified look: neither local streets nor the Interstate system get labels; however, state roads and byways do.
JavaScript Style Array:
[{"featureType":"all","elementType":"geometry","stylers":[{"color":"#ebe3cd"}]},{"featureType":"all","elementType":"labels.text.fill","stylers":[{"color":"#523735"}]},{"featureType":"all","elementType":"labels.text.stroke","stylers":[{"color":"#f5f1e6"}]},{"featureType":"administrative","elementType":"geometry.stroke","stylers":[{"color":"#c9b2a6"}]},{"featureType":"administrative.land_parcel","elementType":"geometry.stroke","stylers":[{"color":"#dcd2be"}]},{"featureType":"administrative.land_parcel","elementType":"labels.text.fill","stylers":[{"color":"#ae9e90"}]},{"featureType":"landscape.natural","elementType":"geometry","stylers":[{"color":"#dfd2ae"}]},{"featureType":"landscape.natural.terrain","elementType":"geometry","stylers":[{"visibility":"on"},{"color":"#4a2e13"},{"weight":8},{"saturation":-48},{"lightness":-21},{"gamma":2.36}]},{"featureType":"poi","elementType":"geometry","stylers":[{"color":"#dfd2ae"}]},{"featureType":"poi","elementType":"labels.text.fill","stylers":[{"color":"#93817c"}]},{"featureType":"poi.park","elementType":"geometry.fill","stylers":[{"color":"#a5b076"}]},{"featureType":"poi.park","elementType":"labels.text.fill","stylers":[{"color":"#447530"}]},{"featureType":"road","elementType":"geometry.fill","stylers":[{"color":"#d7bd51"}]},{"featureType":"road","elementType":"geometry.stroke","stylers":[{"color":"#edc04f"}]},{"featureType":"road.highway.controlled_access","elementType":"geometry","stylers":[{"color":"#e7d4ca"}]},{"featureType":"road.highway.controlled_access","elementType":"geometry.stroke","stylers":[{"color":"#d7baaa"}]},{"featureType":"road.highway.controlled_access","elementType":"labels","stylers":[{"visibility":"off"}]},{"featureType":"road.arterial","elementType":"geometry","stylers":[{"color":"#cabe8e"}]},{"featureType":"road.arterial","elementType":"labels","stylers":[{"visibility":"off"}]},{"featureType":"road.local","elementType":"labels","stylers":[{"visibility":"off"}]},{"featureType":"road.local","elementType":"labels.text.fill","stylers":[{"color":"#806b63"}]},{"featureType":"transit.line","elementType":"geometry","stylers":[{"color":"#dfd2ae"}]},{"featureType":"transit.line","elementType":"labels.text.fill","stylers":[{"color":"#8f7d77"}]},{"featureType":"transit.line","elementType":"labels.text.stroke","stylers":[{"color":"#ebe3cd"}]},{"featureType":"transit.station","elementType":"geometry","stylers":[{"color":"#dfd2ae"}]},{"featureType":"water","elementType":"geometry.fill","stylers":[{"color":"#6073a6"}]},{"featureType":"water","elementType":"labels.text.fill","stylers":[{"color":"#92998d"}]}]